Reading Time:
4
minutes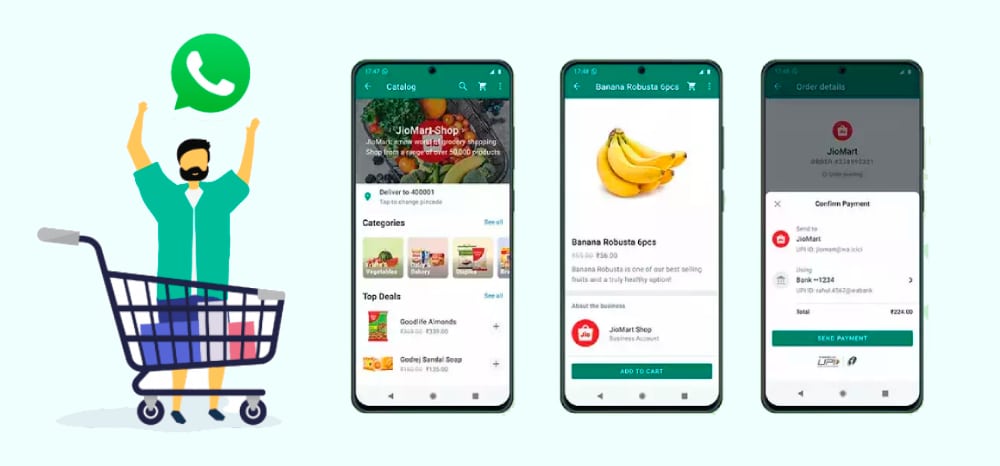 WhatsApp – More than just a messaging app for Indians
The messaging app WhatsApp is ranked as the fourth most used app worldwide. However, WhatsApp is more than simply a messaging app in India. In India, WhatsApp is used by almost 400 million individuals to chat, do business, and keep in touch with friends and family. Since WhatsApp has become so embedded in our lives, we frequently equate texting with "WhatsApping."
How Whatsapp has helped businesses Acquire New Customers:
WhatsApp helps with the acquiring of new customers through lead generation campaigns known as CTWA (Click to Whatsapp Action) campaigns. Through these, brands can reach out to customers that have visited their websites and submitted some basic details like Name, Phone number, etc. Whatsapp helps these brands reach out to their potential customers on a more personal level and establish a better sense of ease and trust. Not only this, but Whatsapp also helps businesses improve their performance funnel by utilising the Whatsapp chatbot instead of the traditional call centers to tap new leads. All communication pertaining to a user's order journey can be shared through Whatsapp alerts instead of conventional SMS/emails and help establish transparency.
WhatsApp shopping – A dream come true
While the app does many different things, it never stops adding and introducing new features. You would be surprised to know that it is now possible to also shop on WhatsApp.
Meta and JioMart have come together to change our online shopping experience. JioMart and Meta are launching the first end-to-end shopping experience on WhatsApp in India. Customers in India will be able to browse the complete JioMart grocery catalog on WhatsApp, add things to a cart, and then pay via the country's native payment system, UPI, all without ever leaving the instant messaging platform. We can just send "Hi" to the JioMart number on WhatsApp, and start shopping on JioMart.
Meta x JioMart
Mark Zuckerberg said, "Excited to launch our partnership with JioMart in India. This is our first-ever end-to-end shopping experience on WhatsApp — people can now buy groceries from JioMart right in a chat. Business messaging is an area with real momentum and chat-based experiences like this will be the go-to way people and businesses communicate in the years to come."
This launch is a product of a strategic alliance between Meta and Jio Platforms, which aims to accelerate India's digital transformation and give individuals and organizations of all sizes the chance to connect in new directions that will stimulate the nation's economy. At the company's general meeting, Ambani said Zuckerberg shares his vision of bringing more people and businesses online and creating "truly innovative solutions that will add convenience to the daily lives of every Indian."
Game Changer For Indian E-commerce
Meta & JioMart have made collaborative efforts to introduce WhatsApp shopping in India. If it is a success, this will be a game changer. The e-commerce sector will also become a significant source of income for WhatsApp, which has traditionally avoided showing app users advertisements.
This new announcement and launch could mean a boom in India's already thriving E-commerce industry. If more and more e-commerce businesses start conducting their business on WhatsApp, they could expand their business at a rapid pace, given the popularity of WhatsApp will give them increased exposure.
WhatsApp shopping would also allow users to pay via the country's native payment system, UPI, all without ever leaving the instant messaging platform. This could mean increased business for different brands or small business owners and a seamless and smooth customer shopping experience.
These India-first solutions will extend the reach of technology to those who haven't previously used it, including those who are overtaking India's path to becoming a major digital economy. It is also anticipated that chat-based engagements on WhatsApp, will alter how customers and businesses communicate in the future.
This is how you can shop on WhatsApp.
Thanks to the WhatsApp catalog function, which has been available for a while, you can easily add items to your cart directly from the chat.
For instance, by just sending "Hi" to the JioMart number (+91 7977079770) on WhatsApp, customers can start buying on JioMart through the messaging app. This applies to other businesses as well. You can browse the catalog of a WhatsApp business account and shop directly and complete payments.
Here's how you can publish your shop on WhatsApp.
Your shop can be quickly published on WhatsApp. First, you need to create your shop on Commerce Manager, and then you can link it with your WhatsApp Business Account. You can follow the steps mentioned here to publish your store on WhatsApp.
People can browse the products in your shop when you publish your Facebook shop on WhatsApp by clicking on the chat with your company or by visiting your WhatsApp Business profile. Additionally, you can encourage your clients to contact you primarily via WhatsApp, allowing them to message you about a product they found in your Facebook store. If you already have a WhatsApp catalog, it will be replaced by your shop when you add it.
The Way Forward
With the introduction of WhatsApp shopping in India, several new opportunities and possibilities have emerged, especially for Indian e-commerce. It's possible that in the near future there will be a noticeable increase in the number of WhatsApp stores, making it possible to buy products there like on any other shopping app. This would undoubtedly alter how the average Indian shops online and completely alter the Indian e-commerce sector.