Reading Time:
11
minutes
By Vibha Singh | Director – APAC
This content has been inspired from the work of Jagadeesh J, VP – Digital Marketing & Growth, Unacademy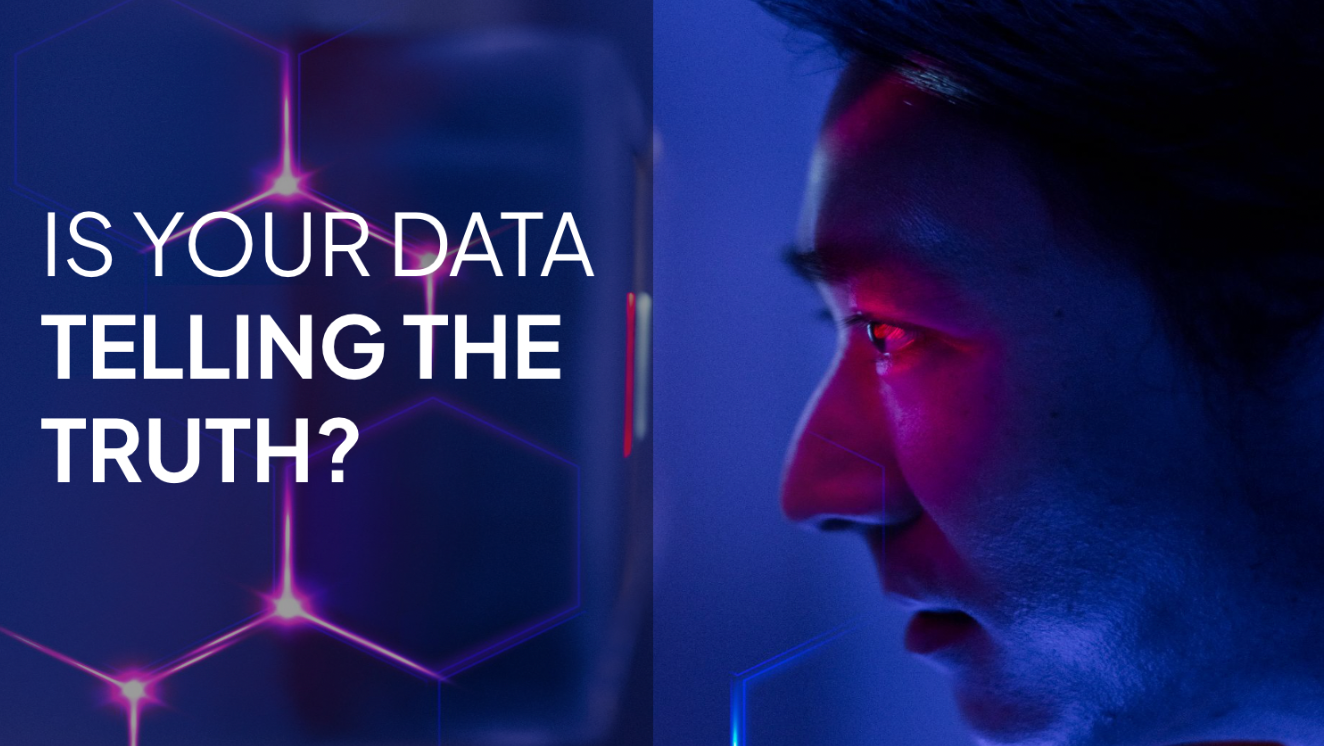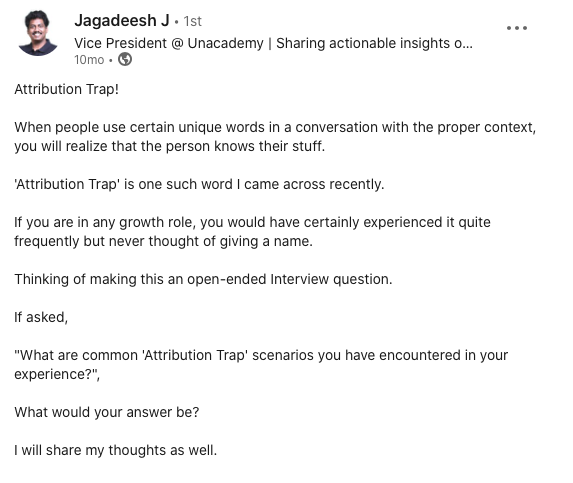 Complex world of attribution
In today's world of omni-presence of a brand, the consumer journeys are no more linear and not limited within one channel, device or platform.
Post-Covid, brands realized the importance of hybrid models, be it in distribution or promotion. While scaling, being present across distribution channels such as D2C website, e-commerce platforms and offline retail is must and so is, to be present across media channels such as Digital (Google, Meta, Tik-Tok, OTT and more), TV, print etc.
However the complexity it brings for a Growth Marketer is unimaginable while assigning the correct attribution to the right source/sources of conversions. Though basics of attribution in the digital world can be understood and common attribution traps can be handled with the right knowledge of attribution models of respective ad-platforms and analytics tools, the complexities of brand's omni presence need advanced custom attribution models and customized data models to unlock growth opportunities.
In this article, we will be discussing the common attribution traps which arise outside the world of ad-panels and analytics tools and how a growth marketer can build a robust system to handle them.
Cancellation Error Trap
Here are the three most common traps where brand are not able to see a clear picture while scaling their spends on digital campaigns and answering the following common doubts:

In all these three scenarios, a marketer looking for ROI doesn't get comfortable to scale a channel when simply judging their performance based on ad-panel (Last Click) or GA4 (Data Driven attribution)) data. In most of the cases, this is how the picture looks like: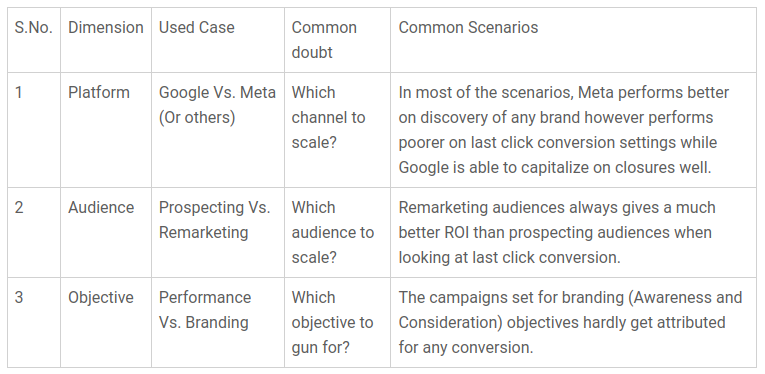 Whenever above complexities of attribution is discussed, the finger is always pointed towards the unfairness of the most commonly used attribution model i.e. Last Click. The most common solution which arises in most of these discussions is First Click attribution.
First Click Attribution: A Data Gimmick?
Implement first click and understand the brand discovery via any platform, audience or objective: Is the solution that simple?
The first step which most of the advertisers take while being at scale is to implement a custom attribution model based on the combination of First Click and Last Click to get a better picture of advertising ROI.
However, simply implementing First Click attribution model along Last Click and looking at campaigns from First Click Vs. Last Click perspective will not solve these traps completely as in many scenarios "Cancellation Error" takes over the attribution and gives you a misguided picture.
All thanks to the Cancellation Error, you might end up seeing almost the same number of conversions against First Click Vs. Last Click from any source.
What is cancellation error:
While looking at a platform or campaign's performance on First Click vs. Last Click, in most of the cases you would realize that conversion numbers are pretty close to each other.
This means this campaign is responsible for converting the same number of users when looked at First Click Vs. Last Click. However, are these the same users who are appearing under First Click Vs. Last Click? Actually, no.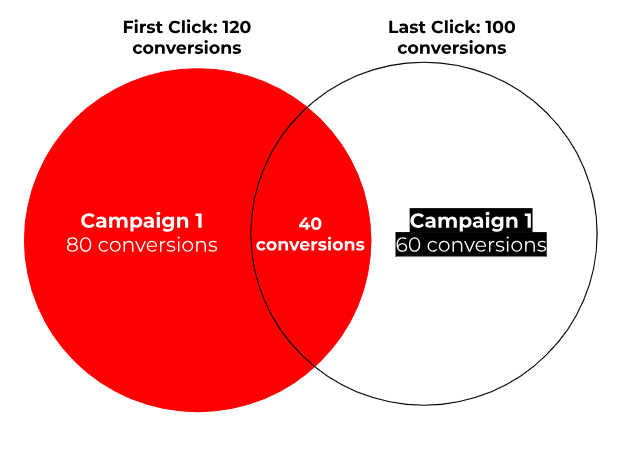 Looking at the Venn Diagram gives you more clarity over the concept of cancellation error.
While the campaign looks the same on First Click vs. Last Click (120 Vs. 100) aggregate conversions, what if we realize that out of these 120 conversions on First Click, actually 80 are different from the users covered under 100 Last Click conversions.
So it was only 40 conversions in common for which this campaign became the first as well as the last touch point in the user's journey from Discovery of Brand to Purchase the Brand.
However at aggregate level the cancellation error is playing and making this campaign look performing almost the same when judged on "First Click" Vs. "Last Click" and thus, simply implementing First Click Vs. Last Click throws no insight to you.
First Click Attribution: the correct implementation in paid and content marketing
Rather than simply implementing First Click Attribution, it requires a few long term cohort analysis derived from First Click Attribution. Implementing these analysis can definitely give you quite a few actionable Business insights:
Define discovery to purchase time period:
How much time does it take from the first click of a user to land on a website to final purchase? Most of the brands operating in the digital ecosystem don't know the answer to this question.
With implementation of First Click, it can be easily defined how much average time a user takes in its journey from discovery of the brand to conversion on the brand. This gives you an understanding that till how long the impact of any digital touch point should be considered i.e. to define attribution window.
Identify the right platform/audience/objective to scale in long-term:
Based on First Click Attribution, we can develop a cohort of new users coming on the website in the current month and conversions happening from these users in the next few months.
While looking at the short term, conversions of a few weeks or even a month don't show any impact on the bottom funnel conversions. However, while seeing it over a period of time (Minimum 3 months, however the time period depends on the avg. time taken from click to purchase time period for the brand ), the users brought today on the website by certain platforms/campaigns start giving results and ROAS starts improving.
Let's look at Table 1 where the conversion of users brought in a particular month is observed over a period of three subsequent months to calculate the CR% in the same and over 3 months period.
Google Vs. Meta Ads Performance over three months:

Table 1: Conversion of new users over three months via Google Vs. Meta
*Note: While the sample analysis is done for Google CPC Vs. Meta ads however can be done at funnel (Prospecting Vs. Remarketing) level as well.
Looking at this table, two conclusions can be drawn:
When looking for the same month conversion from new users on website bought by Google and Meta, Google is showing better conversion rate however analyzed over the the three months period based on the cohort developed with help of First Click attribution, eventually Meta shows slightly better results than Google.
Also this table helps us to understand that the money which we pump into the system in Jan to bring new users to the website, doesn't give the desired CAC on Meta in Jan itself. However, when looked over a frame of three months, it gives us a clear insight across both the platforms which is scalable to bring new users on your website/app which eventually converts over a period. This gives us more confidence to pump money in the correct platform /audience /objective which becomes the reason for the discovery of the brand amongst Target Audience which eventually converts.
Read the whole case study to understand how we used this analysis for Edureka and John Jacobs to scale its system for paid platforms.
Identify the right content to build for Website (Blogs), YouTube and Social Media:
For brands heavily relying on content marketing such as Health, Finance, B2B etc., it becomes imperative to identify the content which not only engages the audience but also brings the audience down in the funnel.
While certain articles on your blog or certain pages on your website heavily engage audiences, however when it comes to the "Discovery to Conversion" journey, not all content types help you.
Generating content is not cheap and extremely time consuming. If you can build the whole funnel based on "First Click" attribution and identify those articles which help you to discover the brand vs. conversion on the brand, you can align your content resources accordingly.
Omni-channel Attribution Trap
For the brands available in both online and offline world, the attribution trap can get real complex. Research Online, Purchase Offline (ROPO) is a common trend in today's omni-channel world where the marketers get into this trap and are not able to identify the influence of online digital campaigns on consumers' decisions happening in the offline world.
Simply implementing popular attribution models (such as Last Click) doesn't solve the problem and trapped marketers don't get the confidence to increase the spends on their online channels.
For high involvement categories such as consumer goods and automobiles, ROPO effect becomes significant. Considering the data is scattered in both the worlds, cleaning, stitching and analyzing data becomes a nightmare for most of the marketers.
There are different scenarios which are explained below to build a unique key based on cookies or personal information shared by a user which can help a marketer to build stitched omni-channel journey:
Scenario 1: User shared personal information online before purchase (Let's take an example of a high end skin care brand with AOV more than 3500/-)
A user clicks on your ad (with a UTM tag captured in CRM) and lands on your website. The user is assigned a unique user id in CRM. All his/her future activities (such as time spent, number of visits, pages visited etc.) on websites are captured with a time-stamp against this user ID. This gives a complete understanding of user behavior on your website before making the purchase.
During one of his/her visits, the user shares his personal information (Phone No & Email Id) on website in exchange of:
Any discount or offer which can be used for online or offline purchase
Applying for membership/Loyalty Card to avail membership benefits or privileges
Initiates checkout process but abandons before payment
Or cases where users make both online and offline purchases
The same user when goes offline and makes a purchase, he utilizes the offer/discount he claimed online and/or shares his personal information at the time of purchase against which the entry is made in CRM. These offline conversions can be passed back to ad-panels to report and optimize for offline sales along online sales.
His offline purchase can thus be stitched to his/her online journey of visiting the website and other activities he/she did on website
Scenario 2: User shared purchase information online after purchase (Let's take an example of an Air Conditioner brand):
A user clicks on your ad (with a UTM tag captured in CRM) and lands on your website. The user is assigned a unique user id in CRM. All his/her future activities (such as time spent, number of visits, pages visited etc.) on websites are captured with a time-stamp against this user ID. This gives a complete understanding of user behavior on your website before making the purchase.
Now the same user goes to a retail store and purchases the AC. The user is asked to register online to claim for the warranty against the purchase (Or given a discount code for redeeming online for the next purchase)
This user comes again on your website to register on the website to claim warranty (You can even ask from which store the purchase was made if you want to check the impact of your online campaigns in specific Geos) and against his/her unique id the whole journey is stitched.
In both of these scenarios, with the help of Attribution and Analytics tools such as Adbytzz, user journey can be stitched end to end.
The efficacy of the attribution can be further increased if the logic of scenario 2 can be superimposed over the logic of scenario 1 (Or the other way around) where a user can be given reasons to share both personal and purchase information.
With help of this, there can be several analysis which can be built such as:
How much is the influence of online campaigns over users' decision to purchase in offline world
On an average, how much time does a user take from discovery of the brand online to purchase the product offline
On an average, how many digital touch points are needed to make a user to decide to purchase
Cross Device Attribution Trap
With users accessing brands through multiple devices, it has made it more difficult for advertisers to build the whole journey with right attribution.
This trap happens when a user discovers a brand on one device (e.g. Phone) and converts via another device (e.g. Laptop).
So far the two most common devices used for discovery and conversion of the brands were Desktop (Or tablet) and Mobile however with the significant increase in consumption of video content on OTTs and video platforms (e.g. YouTube) via connected TV, solving cross device trap has become imperative for digital marketers.
Some of the common scenarios where this trap plays a significant role are:
A brand having both website and app funnel for conversion:
Cross device conversions can still be tracked via ad-panels and analytics tools when the discovery/conversions happen on mobile web and desktop web however for the scenarios where user collects information via mobile or desktop web however downloads the same company's App for purchasing the item, it becomes almost impossible to stitch the data cross devices.
There are certain scenarios of Google users visiting a website in a gmail signed in chrome and using the same g-mail id to download and register the app based on which probabilistic models can be built.
Constantly increasing consumption of ads via connected TV
Connected TV has significantly gained the interest of video viewers and advertisers alike considering heavy consumption of video content which is more submersive via big screen than mobile. However, when measured over Click Through Attribution, connected TV delivers very poorly.
However if measured via View Through attribution, it's easier to measure the assisted conversions happening with help of connected TV which gets completely lost while relying only on CTA.
Google has an upper hand here to stitch data across devices if the browser log in each device (Connected TV and Desktop/Mobile) is via the same gmail-id. Setting up cross device tracking in GA4 helps an advertiser to track a user's journey across devices.
Also, MMPs such as Adjust have built VTA defining CTV assisted conversions to define the effectiveness of CTV.
Summary:
No attribution model is right or wrong. Which attribution model is to be chosen; it completely depends on your business need and scale.
While being a digital brand, it's important that you understand the nuances of each attribution model to avoid getting into Attribution traps. Get into the details of your attribution models for each platform/tool, attribution window and all other nuances we spoke about in this series of articles.
Simply implementing First Click Attribution is not the solution of all major traps. Rather developing deeper data analytics models built with help of First Click will help your business to figure out the right distribution of money and effort.
While almost all major traps can be solved with the right knowledge, there are still a few scenarios where digital advertising and analytics is constantly evolving over time.
Subscribe to our newsletter for more such content or fill the best rated ad-strategy session request to uncover the growth opportunities for your account.